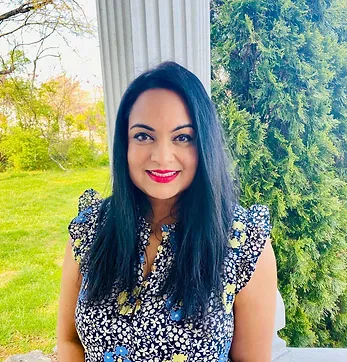 Welcome to Avalon Montessori!
At Avalon Montessori our purpose is to maintain Montessori traditions while celebrating each child's individuality. Avalon Montessori is a premier educational facility providing exceptional child centered instruction. Our school offers a safe, beautiful and joyful space for young children to enjoy the extraordinary benefits of the Montessori Method.
Our mission is to nurture creative, compassionate & confident children. We aim to provide an environment that promotes diversity, self-discovery, and a love of learning while empowering all students to reach their greatest potential. Our curriculum is an integrative approach designed to encourage a child's innate analytical, creative, emotional and social intelligence.
It brings me great joy to work alongside parents to help shape the lives of young children and to nurture their unique qualities. It is my great honor to serve this community and uphold the traditions established by Dr. Maria Montessori. I feel so fortunate to be leading a school that embraces the creative as well as the academic formation of children.
As someone who has been in the education field for over 25 years, I can vouch that choosing a Montessori education is a positively transformational experience for children. Being a mother of two children, I understand what a parent looks for when searching for an excellent early childhood center. My goal is for parents to feel at ease knowing that their children are well cared for, engaged, and learning every day they are at Avalon Montessori.
We look forward to the possibility of your family becoming a part of our community!
Sincerely,
Sonia Chaudhuri
Director
Avalon Montessori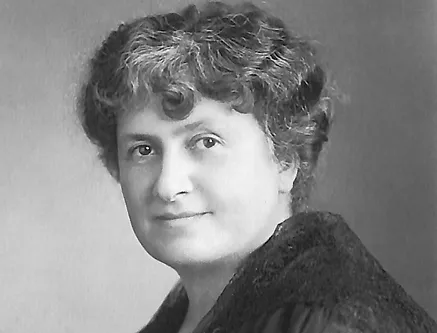 Our curriculum is based on the philosophy and work of Maria Montessori (1870-1952). She was the first woman in Italy to receive a medical degree. She worked in the fields of psychiatry, education and anthropology. In 1907, she founded the first Montessori school in Rome, which was known as the "Children's House". Through her careful and insightful observations of children in her original school, she developed the Montessori Method, an approach to education with an emphasis on independence, freedom within limits, and the individual child. She is also credited with promoting a substantial number of important educational reforms that have influenced mainstream education. Dr. Maria Montessori's contribution to early childhood education is recognized throughout the field of education.
What is the Montessori Method?
The Montessori Method of education, developed by Dr. Maria Montessori, is a knowledge-rich, child-centered educational approach. Children learn in a thoughtfully prepared learning environment with a comprehensive curriculum presented in the form of multi-sensory, hands-on materials. It is an approach that values the development of the whole child—physical, social, emotional, cognitive. ​Here are just a few of the ways in which the Montessori Method is unique.
Prepared Environment
Beautiful, inviting, and thoughtfully arranged, scientifically-designed learning materials are purposefully arranged and ready for use in an aesthetically appealing environment. Classrooms follow an open floor plan to create a learning environment that encourages discovery and aids in developing the faculty of choice.
Learning Process
Montessori allows children to experience the state of "flow" and develop the skill of concentration through uninterrupted blocks of work time, multi-age classrooms and child-directed work. This learning method allows an immense amount of room for independence and self-growth, with an emphasis on developing focus, self-motivation, personal responsibility and engagement.
Role of the Educator
Mastery is best achieved through exploration, imitation, repetition, and trial and error. This is at the core of the Montessori Method. Montessori "guides" work diligently to ensure that their classrooms are prepared to encourage learning, fostering a rich learning environment and a collaborative community. Montessori teachers circulate amongst the students, gently inspiring, guiding, and coaching.
The Montessori Curriculum offers children five key areas of study: Practical Life, Sensorial, Mathematics, Language, and Culture. Each learning area is made up of a set of Montessori materials that each teach one key knowledge area or skill.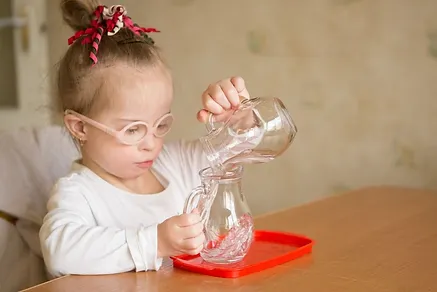 In the Montessori Method, practical life exercises empower children to master every day tasks through repetition and coordination. Practical life exercises include care of the person, caring for the environment and lessons in grace and courtesy.  Activities include transferring, pouring, sorting, polishing, flower arranging, lacing/sewing, food preparation & serving.
This area of the Montessori Method focuses on the exploration of dimension, color, shape, texture, smell, and taste. The child's understanding of the world is "broadened" when the sensorial activities awaken certain sense experiences that were previously unexplored, such as the feel of shapes, the smell of spices or variations of color.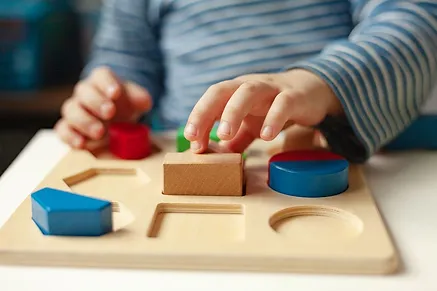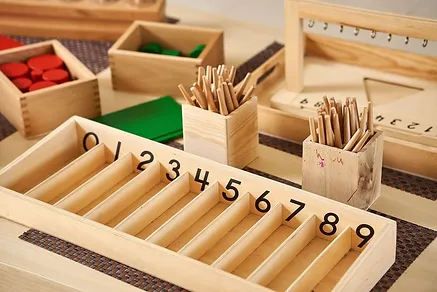 The  progression of learning in mathematics begins concretely and progresses towards the abstract. Children are first introduced to sequential work including understanding of numbers through ten. Children eventually progress to addition, subtraction, multiplication, division concepts, and reach the stage of skip counting and fractions.
The development of language in early childhood is an umbrella for the entire Montessori curriculum. The goal in Language is to establish a solid foundation in listening skills, comprehension, and vocabulary. Children first learn to listen and communicate before writing and reading. Montessori materials such as Sandpaper Letter, the Moveable Alphabets, and Metal Insets are exceptional methods for language development.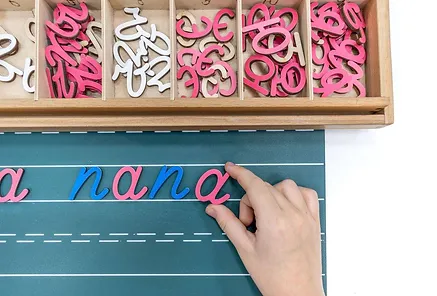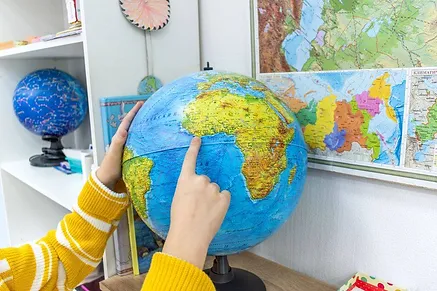 Montessori schools offer many opportunities for the child to expand their understanding of the world through study of geography and culture. Some of the materials in this area are: Land and Water Globe, Continent Globe, World Map Puzzle, picture packets of animals and people in other countries, and career exploration. Science activities our children enjoy are lessons on magnetism, weights, gardening, and classification of plant and animals.
What are the Benefits of Montessori?
Choosing a Montessori environment for your child has many benefits. Known for individually paced learning and fostering independence, the Montessori Method also encourages empathy, a passion for social justice, and a joy in lifelong learning.
Each child is valued as a unique individual.
Montessori education recognizes that children learn in different ways, and accommodates all learning styles. Students are free to learn at their own pace, each advancing as he is ready, guided by the teacher and an individualized learning plan.
Beginning at an early age, Montessori nurtures order, concentration, and independence.
Intentional classroom design, materials, and daily routines support the student's emerging "self-regulation" (the ability to educate one's self, and to think about what one is learning), in toddlers through adolescents.
Students are part of a close, caring community.
The multi-age classroom (typically spanning 3 years) re-creates a family structure. Older students enjoy stature as mentors and role models; younger children feel supported and gain confidence about the challenges ahead. Teachers model respect, loving kindness, and a peaceful conflict resolution.
Montessori students enjoy freedom within limits.
Working within parameters set by their teachers and the classroom community, students are active participants in deciding what their focus of learning will be.
Students are supported in becoming active seekers of knowledge.
Teachers provide environments where students have the freedom and the tools to pursue answers to their own questions. Internal satisfaction drives the child's curiosity and interest and results in joyous learning that is sustainable over a lifetime.
Self-correction and self-assessment are an integral part of the Montessori classroom approach.
As they mature, students learn to look critically at their work, and become adept at recognizing, correcting, and learning from their errors.
Montessori supports social-emotional skills.
Contemporary research supports the effectiveness of the Montessori Method, indicating that children who learn in Montessori classrooms demonstrate stronger social-emotional skills in many areas rather than children in more traditional environments.